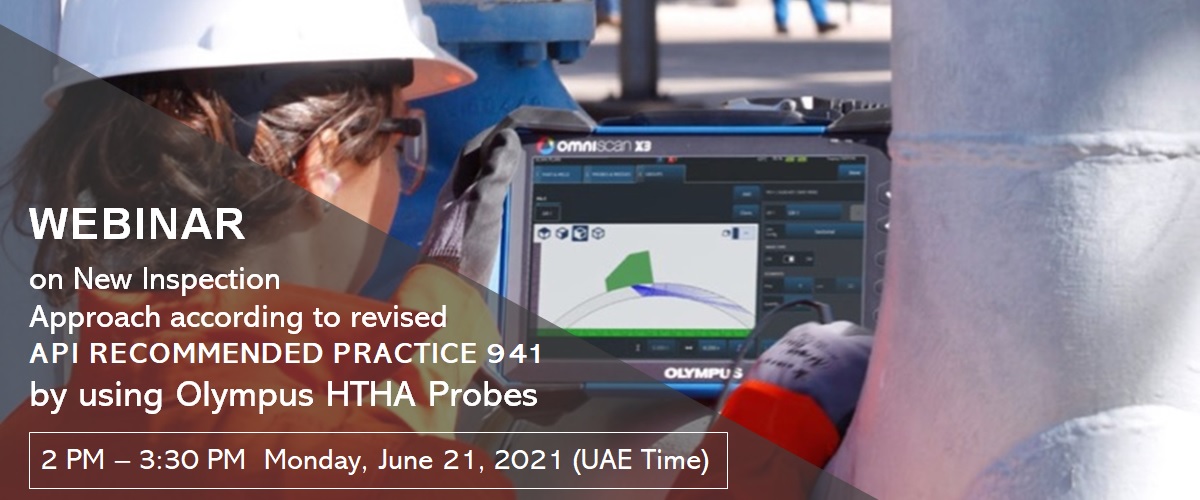 Join OLYMPUS Webinar on New Inspection Approach according to revised API RECOMMENDED PRACTICE 941 on the 21st of June - from 2 pm to 3.30 pm (UAE Time)
Webinar Agenda
• HTHA Mechanism 
• New Inspection Approach by revised API 941
• Olympus HTHA Probes and OmniScan X3
• Case Study 1 - 48 mm thick base material
• Case Study 2 - 18 mm thick welded plate
• Case Studies conclusions 
• Live Product Demonstration
• Questions & Answers
For more details, please call 800 6373 or email Suneesh KS on Suneesh_KS@sep.ae
---
Wingtra One Surveying Drone was one of the 5 finalists shortlisted among 51 applicants for the Dubai Future Accelerators program.
---

We invite you to the ANNUAL SIGMA ENGINEERING SOLUTIONS FESTIVAL from Saturday 12th until Saturday 19th of December in the SIGMA Warehouse in Dubai Investment Park.
It will be an opportunity to share with you our portfolio of solutions and services for a wide range of Scientific and Engineering technologies.
The event is divided into 3 areas:
- Innovation & Demonstration Area
- Promotion Corner - Up To 50% Discount (DOWNLOAD Product List)
- Clearance Corner - Up To 90 % Discount (DOWNLOAD Product List)
We limit the number of customers who can visit the venue at the same time; hence we ask you to BOOK YOUR APPOINTMENT with our Sales Team, to ensure all health and safety measures are conducted as per Government Rules and Regulations. Call us on 800 6373 or email us at marketing@sep.ae
---