Sigma Enterprises has now partnered with Mahr as an authorised distributor to provide an extensive range of Production Metrology instruments designed to meet your quality control solutions in the United Arab Emirates.
Mahr is a globally operating business with a focus on developing, manufacturing & selling Production Metrology Systems. Associated with quality, precision & innovation, Mahr manufacture high-quality metrology systems such as Height Gauges, Surface Roughness testers and Precision Gauges, used for both analysis & evaluation of workpieces.
Explore the Mahr Product Range

---

Sigma Enterprises has now partnered with Baty International as an Authorised Distributor providing an extensive range of non – contact dimensional metrology instruments designed to meet your product and quality control requirement solutions in the United Arab Emirates & the GCC Region.
Baty International is one of the world's leading manufacturers of Optical Profile Projectors, Co-ordinate Measuring Systems and Gauging Products. Building on decades of experience in non-contact dimensional measurement, Baty has offered camera based (vision) measuring systems since the early 1980's. The current product range includes Two-Dimensional (profile measuring) equipment and full Three-Dimensional (coordinate measuring) systems.
---

WingtraOne is built to handle and deliver high-accuracy drone data on the most challenging terrain on Earth. Discover how Geotech 3D utilized the WingtraOne for one of their Key Projects in the U.A.E.
Watch the video here: https://youtu.be/JKEuyGDioNg
Click here to learn more about Wingtra Drones: https://lnkd.in/dreKry-M
Sigma Enterprises is the authorized distributor for Wingtra in the United Arab Emirates.
---

Vidisco provides innovative portable X-ray solutions for safe and accurate detection in demanding Security and Non-Destructive Testing (NDT) applications. Founded in 1988, Vidisco pioneered the digital X-ray industry and today continues to lead in developing, manufacturing, and supporting a wide array of solutions. Thousands of Vidisco systems are deployed by the top military, security, and industrial organizations in 75 countries worldwide. They deliver fast, high-quality imaging in the most challenging environments.
Sigma Enterprises is the Authorized distributor for Vidisco in the UAE market for NDT applications. We aim to offer industry-leading portable x-ray technology with this partnership to our customers in the UAE market.
---

The new OmniScan X3 64 flaw detector addresses the increasing demand for 64-pulser PA and TFM in a portable format. Leveraging the use of dual array probes for austenitic/CRA/dissimilar welds, the OmniScan X3 64 instrument solves challenging PA and TFM applications, including thick-walled and austenitic welds and high-temperature hydrogen attack (HTHA). Sigma Enterprises is the authorized distributor for Olympus in the United Arab Emirates.
---

DJI is a reputed provider of drone solutions that are redefining industries. The DJI enterprise range offers increased capabilities and options varying from multispectral payloads and thermal cameras. DJI platforms allow capturing images that were once out of reach with advanced flying and camera stabilization systems.
Strengthening Sigma Enterprises' strategy of being the market leader in Drone Technologies in the Middle East, the addition of DJI Enterprise Drones to our portfolio will allow us to offer end-to-end drone solutions to our customers, especially those working on budget-sensitive projects.
Explore the DJI Enterprise Series
---

The all-new 3400 and 6800 Series high force universal testing systems are successors to Instron's popular 3300 and 5900 Series systems and are available in 100 kN and 300 kN* capacities. With the higher capacities come a host of new features focused on durability, ergonomics, and simplifying mechanical testing.
Learn more about the key features of the products:
---

Scanmaskin is a dynamic, progressive organisation based in Sweden and has manufactured market-leading floor grinding, surface finishing and polishing equipment offering all kinds of machines and tools for your floor project varying from grinding, polishing, scarifying and blasting.
Sigma Enterprises LLC is the authorized distributor for Scanmaskin in the United Arab Emirates and aims to offer market leading surface preparation equipment for our customers in the United Arab Emirates.
The understanding of customer requirement from the market combined with the Swedish technology has created a platform for increased productivity and functionality, all to create the most cost-effective solutions possible for our customers.
---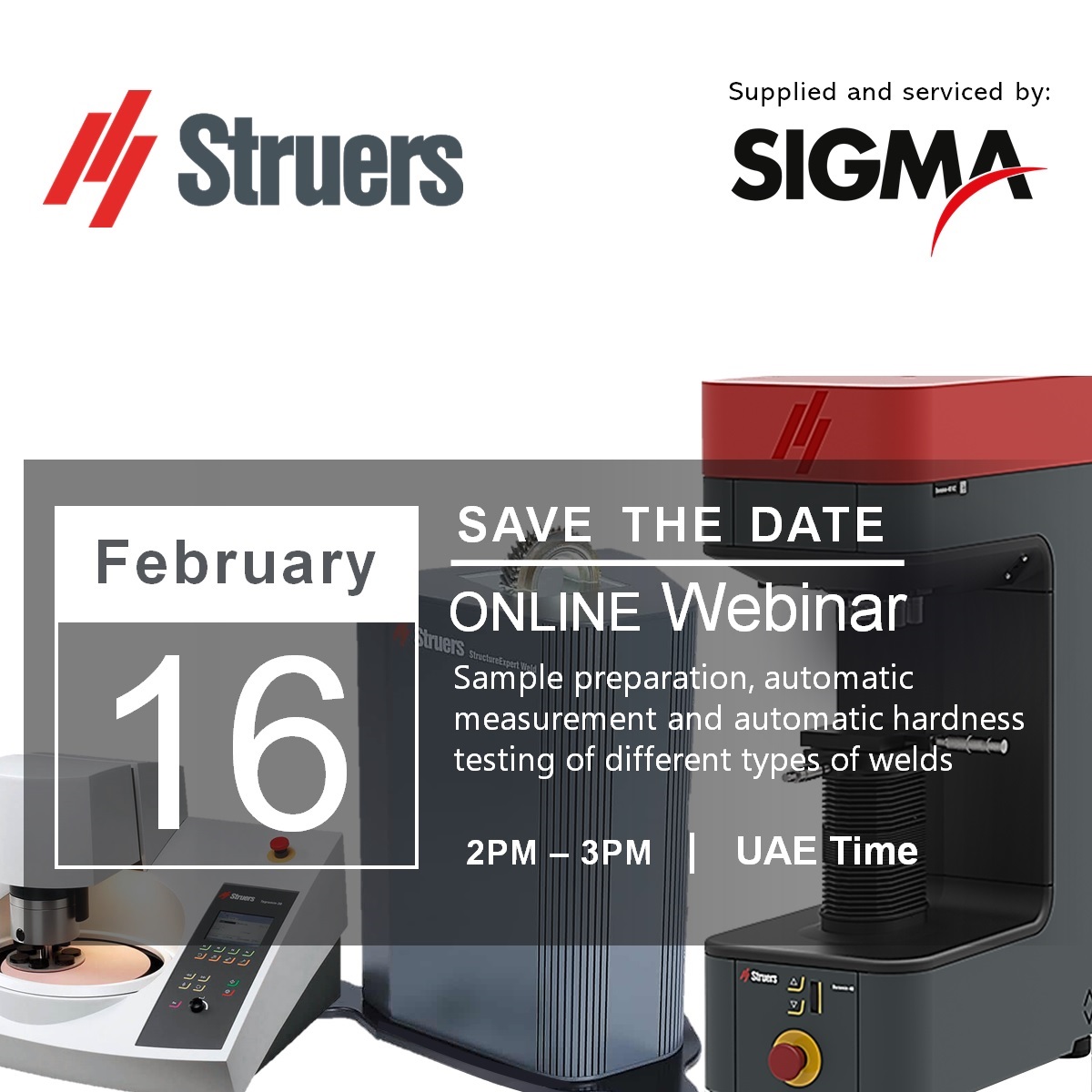 Join us for the interactive webinar on sample preparation, automatic measurement, and automatic hardness testing of different types of welds – hosted by our partner Struers.
Register now – https://bit.ly/3HEzJkw
---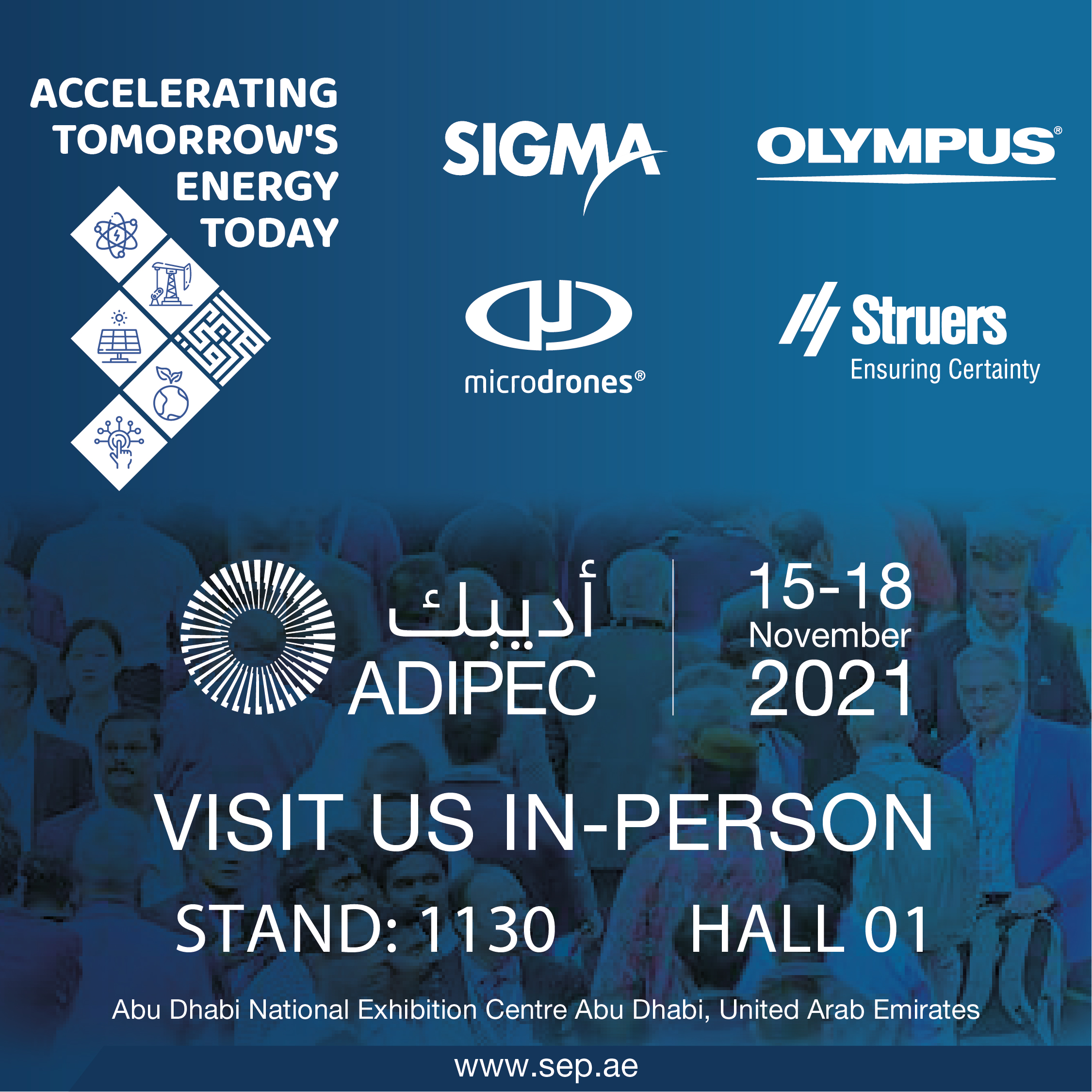 We are proud to be part of The Abu Dhabi International Petroleum Exhibition and Conference - one of the world's most influential events for the energy industry. Visit us Mazrui International Stand together with our partners Olympus, Struers, and Microdrones from 15th to 18th November in Abu Dhabi International Exhibition Centre.

---